Two all-new storage nodes join the SolidFire All-Flash Storage Platform today.
For enterprises and service providers around the world, the new SF2405 and SF4805 nodes are not only welcome additions to the SolidFire family, but also an open invitation for customers to start delivering a more predictable, automated and scalable storage infrastructure to every workload. Read on to see what each of these nodes will do. It's pretty flash forward.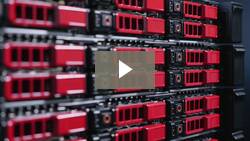 SF2405 – Your journey to private cloud infrastructure starts here
The new SF2405 dramatically decreases the cost of entry for the only cloud-scale all-flash array, with a 4-node configuration that delivers 35TB of effective capacity and 200,000 predictable IOPS below $100,000. It's a perfect platform for departments and IT managers needing to accelerate individual applications, or for those looking to take their first steps toward deploying a private cloud infrastructure and IT-as-a-service (ITaaS).
SF4805 – The industry's lowest $/GB
The new SF4805 doubles the density of the SF2405 while providing 44 percent more storage capacity at a 30 percent lower cost than the previous SF3010. The SF4805 delivers the lowest $/GB available in the industry today, with a starting 4-node footprint providing 69TB of effective capacity and 200,000 predictable IOPS.
Both the SF2405 and SF4805 can be used for new SolidFire clusters, or added to any existing SolidFire cluster to increase capacity and performance cost-effectively. They run the same SolidFire software as our existing nodes, with the full SolidFire feature set included at no additional cost.
The most current and cost-effective flash technology
Flash memory benefits from the same Moore's law curve that has led to dramatic reductions in computing cost over the past 30 years. The yearly increases in flash density and corresponding reduction in price has taken flash from being a premium "Tier 0" to a mainstream "Tier 1" and now to the point where, when combined with in-line data reduction, it can be used for virtually any workload beyond backup and archive at a cost similar to spinning disk.
Monolithic and scale-up flash architectures lock customers into a specific generation of flash technology, requiring system replacement or controller upgrades to leverage lower-cost flash geometries. With SolidFire the issue of obsolescence never arises. Our software-based architecture allows us to validate and integrate the latest flash technology quickly, and our mixed-node scale-out architecture allows customers to buy just what they need to start, and incorporate the latest flash technology seamlessly in the years to come.
Welcome new nodes at every turn — Mix, match and scale-out
With traditional storage architectures, new platforms can be unsettling — raising questions of compatibility, investment protection and complex forklift upgrades. Yet within SolidFire's scale-out design, new cost-effective nodes with greater density and performance are welcomed at every turn, for the simple reason that each of them can be seamlessly added to any SolidFire cluster.
No forklifts, no data migration, no stranded capacity. One click gives you a larger pool of capacity and performance. Simple as that.
Eliminating generational upgrades
The SF2405 and SF4805 are the third-generation of SolidFire hardware, and for our customers these new nodes continue to make the promise of eliminating generational storage upgrades a reality. Simply put, there is no need to EVER turn off a SolidFire storage system and migrate to a new one. You simply add new nodes and remove old ones as your business and application demands dictate, without interruption or downtime.
That's worth repeating: non-disruptive software and hardware upgrades and scale-up and scale-down, proven consistently over three generations of hardware and six major releases of software (soon to be seven).
SolidFire is the undisputed king of flash scale and high availability, which is why we power many of the largest public clouds in the world today. The launch of the SF2405 cuts the starting point for a SolidFire storage system in half, making it easier than ever for customers to accelerate critical applications and then scale their initial infrastructure to consolidate a broad mix of workloads on flash.
Whether your starting point is four nodes or 40, SolidFire is ready to deliver the economics of cloud scale, the efficiency of complete automation and the predictability of guaranteed performance.
So go ahead, start something big and be confident that SolidFire will let you leverage the latest flash technology along the way. Because the evolution of flash is not slowing down and neither are we. Hell, we're just getting started.